Home Page
Important:
Practice
Practice has ended for the Spring for D1.   D3 has a tournament and will continue to practice Tuesday and Thursday through May 4th.
Watch for the start of Summer 7's practice.  When announced, seesions will be held every Tuesday and Thursday from 7:30 to 9:30 at Essex Community College on the main athletic field. The address for the school is 7201 Rossville Boulevard,Baltimore, MD 21237-3899.  When Essex is not available, practice will be held at Rosedale Park 8200 Old Philadelphia Rd. Baltimore, MD 21237. Dates for Rosedale Park will be posted.
---
Club News
For the celebration of Peter Brock Rugby Day there will be a match between a Peter Brock Select Side versus a combined D1/D3 side. The match will be played at Bocek Field and will start at 1:00 p.m. All are welcome and encouraged to attend. We will gather at the team bar, Barracuda's in Locust Point (1230 E. Fort Avenue), after the match.
The Peter Brock Awards Dinner will be held on Saturday, April 29, at the Kimpton Hotel Monaco from 7:00 p.m. to 11:00 p.m. The price is $80 per person and includes dinner and drinks. Please click here for more information and to purchase your ticket.
---
OLD BoyS Tournaments and Matches
Maggotfest:  Old Boys 15's in May 2017.  Contact Wade Gowl, President of the Old Boys for more info.
Match Schedule:  April 22 – Home
---
Drury's Last game at bocek
BC win over Norfolk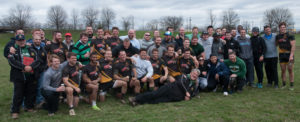 ---
USA Rugby CIPP Membership
When registering remember that our group name is Baltimore-Chesapeake Rugby Football Club. DO NOT register for the Bocek Brumbies (that is our youth team). If you are not CIPP'd then you CANNOT play in any match.
Please print the final form and bring it to practice. The club needs to keep these forms on file.
Match News:
Match Schedule