The Peter Brock Story
Peter Brock 1951-1987
Many of us now playing the game have never heard of Peter Brock, much less met him or had the opportunity to play with him. More's the pity. Peter was a "heart and soul" sorta guy. One of the first to welcome new players to the club, and it mattered not if you were last-side material or an international…he gave all rugby players the welcome they deserved. I have never met Peter; I only know him through many of my fellow teammates and many of Peter's opponents. And through all my years in Baltimore, I've always felt welcomed by him.
Peter's origins are everywhere as the family moved from coast to coast before settling in Baltimore. He may have been well traveled, but his heart was meant for Baltimore. He went on to play for the Chesapeake RFC. The Chesapeake RFC slowly became a force in the  Baltimore area. However, Peter had another vision. Recognizing that this town did not have the mobile, international population of DC, nor the size of NYC or Philadelphia, he realized that the best possible scenario for Baltimore area rugby would be ONE team. To that end he helped orchestrate the merger of Towson Old boys and Chesapeake. both clubs had been suffering from dwindling membership. The merger helped create a new powerhouse in Baltimore.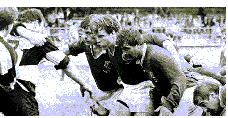 But more important than that, is the man himself. Peter anchored the front row from his tighthead prop position. He pushed his young hooker, Tom McCormack, to become the top hooker in the old Eastern Rugby Union (ERU) which comprised clubs from Maine to Florida. This became Tom's springboard to International acclaim as the #1 hooker for the U.S. Eagles. Under Peter's quiet and determined leadership, the newly merged club began the climb out of Division II and into the First division. The combined club, Chesapeake, moved into the top three of the PRU. Heady stuff. Peter just wanted everybody to succeed.
My most memorable 'Peter' story is also the most tragic. It speaks to the true spirit of Rugby – the sacrifice one makes to help a teammate score, the willingness to defy long odds and defeat, facing serious injury, because playing the game is its own reward!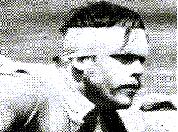 A group of friends had gathered at Sisson's on Cross Street for an evening of entertainment. There were beers of many kind to be had; women's company to be enjoyed; and friends for storytelling. A perfect Rugby-kinda night! The boy's gathered 'round the bar, drinking Reindeer ale and Sisson's Stock Ale. Just settling in for a long and  enjoyable night. Peter gently leading the charge. He pauses for a moment…his head begins to throb. Not wanting to spoil things, he steps outside for a breath of fresh air. Rather than diminishing, the pain increases…friends, concerned, gather 'round…Peter drops onto the sidewalk clutching his head! Panic! They corral a passing taxi…bundle Peter in…it's a high sped run to the closest hospital…the boy's CARRY Peter into the emergency room, demanding, cajoling, convincing the staff to "save Peter!!"
The E-room staff gets Peter to the examining room…a brief exam takes place…the boy's explain what happened prior to Peter's collapse. The doc looks up, says, "He's as good as dead. He's just had a massive brain aneurysm. Nobody usually recovers from one of those." What?! Die? Dead? Gone? The boy's have Peter's life in their hands. Somebody, I still don't know who, grabbed the E-room doc by the neck, lifts him off the ground and tells him, "YOU WILL SAVE OUR FRIEND. HE WILL NOT DIE. HE WILL RECOVER. NOW, DO IT!!!"
And so the young doctor does. And Peter lives.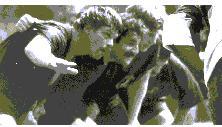 But it is clear that he will never be as he was. Shortly after, when he had somewhat recovered and regained consciousness, he was moved to a specialty care center in the Boston, MA area. Peter, for all I know, never spoke again, barely recognized the world outside his own. He seemed content to sit and watch the day wander on by. A fallen warrior. Well, what of his friends? They arranged a match against the powerful Beacon Hill RFC, a Division I side; our boy's still a Division II club. On a wind swept New England spring day the two sides clashed. Peter sat on a nearby rise, blankets 'cross his knees, in his wheelchair. Our boys played hard. Though overmatched, they kept their opponent close. Late in the game, our boys were down by three. They pressed, hoping for an opening…there it was.
Play is about to restart in the waning moments of the match. Our boy's have their backs literally up against their own tryline. Captain Tom McCormack takes the 22-meter drop-out. Tony Wolf – Wolfie!! – sprints off after the high ball. Screaming, he and the ball arrive together – he gathers in the ball and roars down the near touchline and over he goes for the score. It's converted. The whistle goes for full-time. Our boys are cheering and jumping like they've won the championship. And you know, they had. They all look over to Peter and for the first time since his fall, they see it, his smile! They gather around him and wheel him to his home, singing into the night.
Peter passed away a short while later.
And so, I ask again, "What of his friends?" Well, look on any Rugby pitch and you'll see them all about you. His was an unusual, giving spirit. For you see, if you have just played rugby, you are a friend of Peter Brock. Have YOU played? DO you play Rugby? If so, you are one of his many friends. You know the joy Peter felt each moment he played, practiced, and trained for this magnificent game! Through the pain, the blood, the frustrations, and the successes, he saw joy in each and every Rugby moment; we are not likely to see his kind again.
TEAMMATE TESTIMONIALS
"Inspiration, because when the other selectors didn't have faith, Peter did…he just wanted to have fun and play the game. Peter gave me that chance, and I am very grateful."
-Darryl Saxton
Congratulation to this year's winner…And I hope it will be true for you as it has been for me. That with every year that passes since winning the Award, the value and its meaning multiplies immeasurably. Cheers to the BC Rugby Club for remembering Peter Brock. And for keeping the Peter Brock Memorial Award alive.
-Lance French
Throughout my 23 (or so) seasons I knew several players who had traits similar to Peter's. Some played with Peter's tenacity, some had the same training discipline, some had that 6th sense to understand the game at a higher level, some were gregarious off the pitch, some were good coaches and mentors for younger players, some made you play harder to impress them and some were just always fun to be around. Peter was the only one I ever played with who had all those traits.
-Dave Slaughter
"What I do know about Peter Brock is that he was an exceptional human being by any standard…Peter was a Renaissance man in the front row. He could give and take a punch or boot with the best…off the field his preferences were bird watching, symphony music and ultimate frisbee."
-Chris Doherty, ERU & Washington RFC
"It was a "hot as hell" Sunday in September of '80, we were playing the Lancaster RFC. Their backline continued to have us overlapped. The extra man was breaking through the mid-field with regularity. It wasn't even my man. It was one of my first A-side games. It was nearly my last, because Peter came up to me, looked me in the eyes and in a loud and emphatic voice said, "Steve Elliott, if you don't tackle that guy, you will never play A-side rugby for this team again."
-Steve Elliott
Peter Brock was playing and coaching rugby with Chesapeake when I first started playing. It was probably his interest in the beginners, like myself, that kept me coming out. I had played in about 2 or 3 games and we were up in Wilmington and they needed a second row for the B-side game and I went to Peter and said that I would love to try and play with the B-side. In the C-side games I made a lot of the beginner mistakes. Well, he gave me a chance and coached me along. I don't remember if we won or lost but I was very excited about being able to play and have someone notice and help to better my play.
-Todd Harmon
Peter loved bird-watching. We had a home game against a tough opponent. The pre-game intensity level was high. As I walked onto the pitch before kickoff, I was looking up at this large bird floating above the field. Peter walked up to me, identified the bird (a Turkey buzzard) & went on to compare and contrast said bird with it's look-alike cousin, the brown buzzard.
-Steve Elliott
His smile! And the contradiction of that smile when you looked into his eyes as he walked onto the pitch. Peter was all business in the field and his eyes were the windows to his soul. During a match they told you that he was ROCK HARD! He trained and played to WIN!
-Tom McCormack
Two of the strongest emotions to contend with in rugby and in life are 'love' and 'fear'. And Peter Brock commanded both of them on the pitch. I remember as a college player, Peter would show up. Everybody would get quiet and stop screwing around, even on the sidelines at tournaments. Nobody wanted to look foolish around him. but I don't think he even noticed. He was totally in his element, and you could see it in his face. You know that look. It's the look that says, "This place is mine!"
-Joe Morel
RUGBY FOOTBALL CLUBS
The following clubs have had the pleasure of playing the game with Peter:
Chesapeake
BASS
Potomac Rugby Union
Eastern Rugby Union �North
Eastern Rugby Union
US Eagles